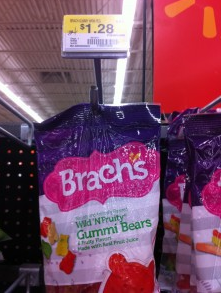 You can get it for just $0.53 per bag at Walmart!
Stock
up now for lunches and after-school snacks!
Here's the breakdown on the deal at Walmart:
Buy 2 bags of Brach's candy -
Final Price = $0.53 per bag (when you buy 2)
Prices vary by region and by the candy you buy. Some are more expensive than others, but this is still a great deal on candy!!
Organizing Your Stockpile Tip!!
Break up each bag into snack sizes when you get home! Ziploc or other sealing bags work best for candy. Then place them in an "After-School Snack" drawer in your kitchen, or if you don't trust your kids to eat only one bag, place out 1 bag per child as a designated "After-School Snack Pickup Spot"!!